Here at Balloon Twisting CT, our goal is to make your next party or event as fun and entertaining possible. While balloon twisting by Dave and our team is great way to keep guests occupied, there also are plenty of things you can do with balloons that don't require any skills or balloon twisting experience. Check out these simple balloon hacks that will have your party popping (no pun intended) in no time!
Finding your house: sometimes when headed to a party it is difficult to find the venue or entrance — not anymore! A pathway clearly marked by balloons will get rid of your guest's worries about which house is the right one, or which door to enter, and is very simple to make.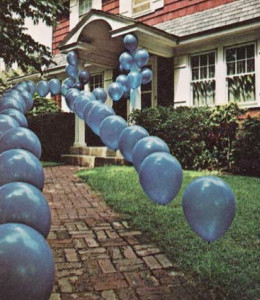 Are you on the hunt for a perfect table centerpiece? Don't waste your money on fancy flower arrangements or vases — just use balloons instead! It will add a much more festive feel to your decor, and kids will love it.
Keeping a large number of drinks cold for a long period of time requires a bit of planning (and also a towel when ice starts to melt!) Instead, fill several small balloons up with water and stick them in the freezer for balloon ice cubes! No more digging through a pool of half melted ice for a drink, not to mention it looks more fun than plain old ice.
Kids love lollipops right? So why not make GIANT ones out of balloons? Just throw some plastic wrap around a balloon and attach it to a white stick or pole, and your giant sucker is done. (How long would it take to get the center of these lollipops?)
And why stop at just lollipops? You can also make giant ice cream cones by simply attaching some extra party hats to your balloons.
Or, if you're not so into candy and ice cream, try making a balloon fruit bowl instead! Just blow up some balloons of various sizes and colors and attach green construction paper to them — a much healthier balloon-food alternative.
If you're throwing a New Year's Eve party (or are just really attracted to shiny objects) try getting clear balloons and filling them with glitter and confetti. It gives you all the fun of glitter poppers with none of the clean up!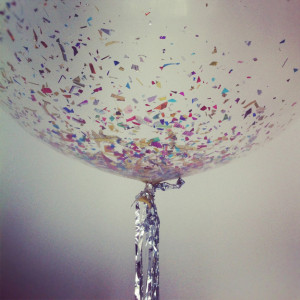 But say you don't mind getting your hands a little (or really) dirty: fill some balloons with paint and let your kids have a paint fight! Just make sure to tell your guests to wear old clothes that they won't mind getting messy. And take lots of pictures!
Last but certainly not least, if you're throwing a Halloween party, you're gonna wanna check this out. Put a glow stick in your balloons and fill them with water. Then stick them inside stockings and hang them from the ceiling. Turn off all the lights for super cool and spooky vibe.
Follow @balloontwist_CT